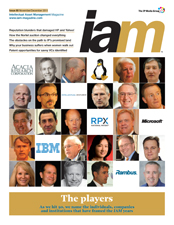 To mark its 50th edition, IAM magazine put together and announced in its latest issue a list of 50 people, companies, institutions and other things that have helped to shape today's intellectual property market.
On the list is China's State Intellectual Property Office (SIPO) Commissioner Tian Lipu. Other individuals who have also made it to the list are: the late Apple founder and former CEO Steve Jobs, the United States Patent and Trademark Office Director David Kappos, as well as chief executive officers or presiding IP officials of some international corporations including Samsung, Ericsson, Hewlett Packard, AT&T, GE, Philips, and Google.
As for companies and institutions, IBM, Microsoft, Nortel, Licensing Executives Society, and the US courts are, among others, recognized as influential players in the IP arena.